Langmuir Isotherm Calculator
Computing the fraction or percent of the adsorbent surface covered by an adsorbate
Input
Output
Surface Fraction (θ)
0
Surface Percent
0
Formula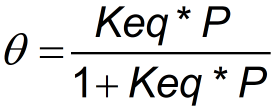 θ = Fraction of the surface covered by adsorbate
Keq = Equilibrium constant of adsorbtion
P = Partial pressure of the gas
Defination / Uses
Using the Langmuir model, the Langmuir Isotherm calculator calculates the fraction or percent of the surface of the adsorbent covered by an adsorbate.
Adsorption
A process of adhesion that connects molecules, atoms, or ions to a surface (or a phase boundary).
Chemisorption
Chemisorption is a type of adsorption in which the adsorbate and the adsorbent form strong chemical interactions.
Isotherm
A function that describes the change in the amount of adhered substance, depending on the substance's partial pressure or concentration. Use the upper given formula for manual calculations. No sign-up, registration OR captcha is required to use this tool.